Demo
See Qualstan Testing Suite in Action!
Discover how Qualstan can accelerate your SAP Implementation, upgrades, Service packs and enhancement packs New business processes or changes to existing business process Other SAP coustomizations and/or SAP migrations Validation of business process which cross multiple application, including ERP, java, .net, iseries, mainframe and custom application

SAP Business Warehouse

Create a centralised repository for all your data from the various SAP systems you deploy and give a unified form to all your analytics and reporting.
Sound analytics and business processes are highly dependent on data; therefore, it is extremely important to improve data quality and have instant access to it by investing in the right tools and skillsets. SAP BW solution helps you to achieve a centralised access to all your data.
Delta can help you integrate your data from your SAP systems and all other sources and enables you to make well-informed decision and achieve faster results by eliminating key business issues such as disparate databases, reduction in time and enhanced consistency of decision making and ensuring data is available in the required level of detail.
Delta services include the following:
BW Consulting and implementation
BW Landscaping, upgrade and migrations
Business intelligence strategy and definition of roadmap
Performance and upgrade assessments
BW Testing
BW Support
BW Reporting and Enhancements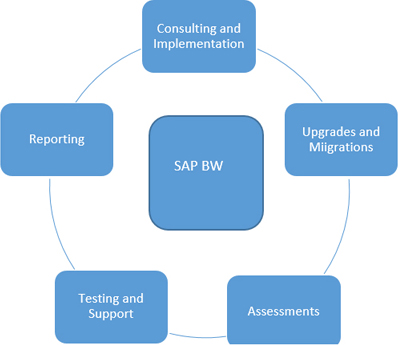 © 2020 Delta Information Systems Inc. All rights reserved.